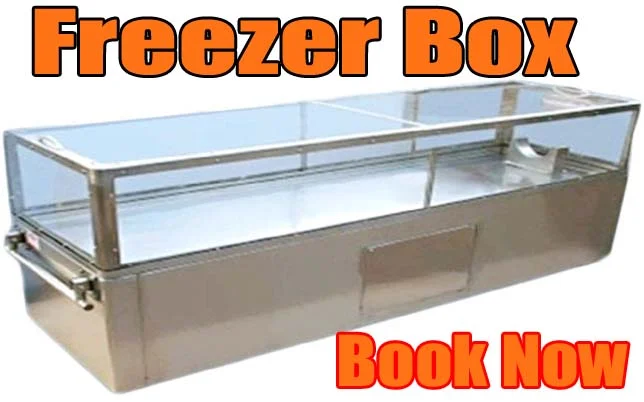 Freezer Box Ambulance Service near Manikonda, In times of emergency, every second counts. AmbyRide Ambulance, with its commitment to excellence and innovation, brings a new dimension to emergency medical services. One of their pioneering offerings is the Dead Body Freezer Box Ambulance service, aimed at providing dignified transportation for the deceased while ensuring utmost care, respect, and hygiene.
Unmatched Compassion and Dignity: Losing a loved one is a deeply emotional experience, and AmbyRide understands the importance of handling such situations with the utmost compassion and respect. The Dead Body Freezer Box Ambulance service is designed to offer families a dignified and secure way to transport their departed loved ones.
Cutting-Edge Freezer Box Ambulance: AmbyRide's Dead Body Freezer Box Ambulance is equipped to preserve the body and maintain a controlled environment throughout the journey. The freezer box is designed to keep the body at a low temperature, preventing decomposition.
If You are looking for a Freezer Box Service Near Gachibowli Contact Us 
Hygiene and Sanitation: Hygiene is a top priority for AmbyRide. The ambulance is meticulously cleaned and sanitized after every use, ensuring a sterile environment. This is crucial not only for the preservation of the body but also to protect the health of the accompanying family members and medical personnel so you can Book a freezer Box Ambulance near Manikonda.
Trained and Compassionate Staff: AmbyRide's team comprises highly trained professionals who are not only skilled in their duties but also deeply compassionate. They understand the emotional turmoil families are going through and provide the necessary support with empathy and care.
Manikonda's Trusted Ambulance Service: Located in Manikonda, AmbyRide has quickly become a trusted name in ambulance services. Their dedication to innovation, compassion, and reliability sets them apart. The Dead Body Freezer Box Ambulance service is just one example of how they continually strive to meet the evolving needs of the community.
 Beyond Transportation: AmbyRide is more than just an ambulance service; it's a partner that stands with families during their most challenging moments. From offering timely transportation to ensuring the highest standards of care, AmbyRide's holistic approach provides solace to grieving families.
 AmbyRide's Dead Body Freezer Box Ambulance service in Manikonda reflects their unwavering commitment to redefining ambulance services. With a perfect blend of technology, compassion, and professionalism, AmbyRide is revolutionizing the way we approach end-of-life transportation, bringing comfort to families during their times of need